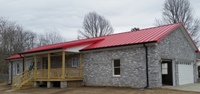 When planning your new home, nothing is more important.  We want to make your dreams a reality, and our job is to make it more than you could imagine.  We are here to help you plan, design, and build your home.
Making sure that it is built with you and your needs in mind.  We actively engage with you to ensure your love for your new home stays well past its completion.
Through our many years of experience, we have helped build many sizes of homes, whether you are looking for a nice 1000 sq ft home out in the country to call home, or your 5000 sq ft home that you've been planning for 20 years, we promise that the end product will be one you are proud of.